Patient Reviews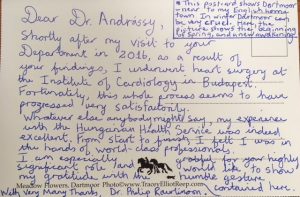 I would like to express thanks and my maximum respect to you and all members of the Ophthalmology Department of your hospital for their patient-focused and devoted work.
Many thanks to the nurses of the Ophthalmology Department for working without tiredness night and day.
A disciplined and careful work, some kind words, a smile can make a patient feel good and satisfied. (Ophthalmology Department) 
… he applied a therapy after which as a result my wounds healed spectacularly and I didn't need to take any of my painkillers ….  (Surgery Department VIP Section)
The nurses are attentive, helpful and are tireless even during their night shift. There are highly qualified graduated nurses operating at the VIP Section of the Surgery Department.
Already at the Reception we could experience a polite hosting.
Please do indicate to the physicians and nurses participating in the program that they represent a very high level of humanity and professionalism. (Screening Test for Managers)
I found a patient-focused environment which I would like to thank to the staff of the Cardiology Department. I left the department calm and satisfied feeling that in case of a necessary therapy I would return to this hospital with no worries.
Grateful thanks to the whole staff of the Central Department of Anesthesiology and Intensive Care for making every effort in professional and personal terms to save the life of my father.
The hygiene and order within the area of the department is remarkable. (Urology)
I would like to express appreciation and thanks to the Urology Department for their devoted, professional and patient-focused therapeutic work.
Thanks for the humanity and the rapidly executed high level patient care. (Otorhino-laryngology)